Faculty in office residence: WJC in McDowell Hall
Since 2004, W. Joseph Campbell has been the faculty member in office residence in McDowell Hall, on the North Side of the American University campus, as part of a collaborative program with the university's
Office of Campus Life.
In that position, Campbell seeks to promote informal contacts among students and faculty in a residence hall setting, and to underscore that academic life at AU extends beyond the classroom. He also teaches seminar-style classes in McDowell.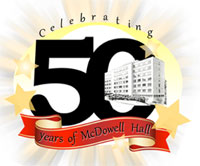 "There's no better place for a faculty office than a residence hall," Campbell has said. "You're quite close to daily student life but at a discreet distance. You can be a resource, a mentor, a sounding board, often in unscripted and informal ways."
Campbell is a discreet presence in McDowell Hall, where he works with AU Housing & Dining staff and student resident assistants to pursue a variety of programming initiatives.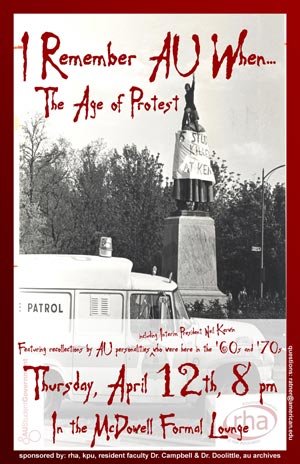 Among the initiatives was an event marking the 50th anniversary of the opening of McDowell Hall. Another program initiative was the popular "Dialog with the Dean" series, in which the deans of AU's academic units individually came to McDowell to meet and speak informally with students.
Campbell also has collaborated with the student-run Kennedy Political Union in organizing "I Remember AU When: The Age of Protest," aprogram that took a look back to the late 1960s and early 1970s when AU was a hotbed of activism and dissent.
In addition, Campbell helped initiate a series called "AU's Finest Faculty," in which the top professors on campus spoke and met informally with students.
In recognition of his in-residence work, Campbell has received the University's faculty award for service to the AU community.